Music has been a mainstay in the course of humanity. It has helped us grow, prosper, and conquer through difficult challenges, lending its hand with the hope of peace. And yet, nothing has changed music as a whole greater than, you guessed it, the Internet. How we choose to interpret music, the extent and the knowledge, has expanded thanks in large part to the gathering masses forming in communities all across our World Wide Web. Acceptance for artists, especially in Hip-Hop, the Internet's biggest genre transformation, has allowed for a wide-range of sounds and styles to become recognized in the genre. Riff Raff, Lil B, & the Troll Rap movement (For lack of a better term) are the biggest movers thanks to the Internet, creating something that would be entirely unaccepted amongst the masses just a decade ago. That being, lazy, disjointed flows using simplistic verbiage over bass-heavy, hazy production lacking any obvious substance or meaning, yet all the while maintaining enjoyment. This is exactly what Neon Icon does. And while Riff Raff's hyped album may have taken an incredibly long time to release, despite no obvious reason as to why, the fun and gratification of hearing the collection of songs nulls any complacency issues and deters listeners from looking to far into something that in reality is a one-dimensional wall.
Riff Raff's explosion on the Internet rap game can be largely attributed, maybe moreso than any other artist, to his demeanor, style, and overall ridiculousness. However, much as is the case with Lil B, the production aesthetic is what draws listeners in who initially had qualms about enjoying a 'terrible' rapper. The new-found genre wouldn't be half of what it is today if it hadn't been for the ethereal, woozy, while slightly bombastic, sound that producers like Clams Casino made popular. Just look at Yung Lean as a case study. Thankfully, for the most part, the production throughout Neon Icon does its job; drawing listeners in with the catchy, toe tapping beats present throughout the tape. My initial intrigue stemmed from the noticeably minimalist approach, meshes a handful of sounds, loosely constructed, into blossoming spaces. How To Be The Man, Wetter Than Tsunami & Tip Toe Wing In My Jawwdinz are the best examples of this sound, clearly influenced by trap-style beats, but with enough air breathing through the synthesizers to let Riff create his own space, rapping, singing, or in the latter's case whispering, in and out of the simplistic construction.
Riff Raff, known also as Jody Highroller present in one of the two pointless, yet comical skits, took an experimental approach to what I formerly figured would be a straight forward rap album. To some, nearly all of these risks fall flat on their face, however, regardless of the finished result, I can only applaud the Houston-native for taking such drastic gambles. I'm talking mainly of Kokanye, Time, & VIP Pass To My Heart, all eliciting clear mashes between his forte, Hip-Hop, and another popular style of music, Rock, Country, & Techno respectively. All three succeed strikingly, not for their top-notch quality or remarkable sound revelation, but for sheer enjoyment. They're all cases of "that song sucks" remarks one day, only for it to be stuck in your head the next, itching for a chance to hear it again. It's risks such as these that allow me to appreciate Riff Raff's approach to music, not afraid to falter, experimenting in ways he only feels are right. However, something that cannot be ignored is the obvious, and expected, lack of connection between any songs and the album as a whole. They truly do feel like a collection of tracks, much like your bland mixtape, which results in a tape that, upon its conclusion, is entirely devoid of substance.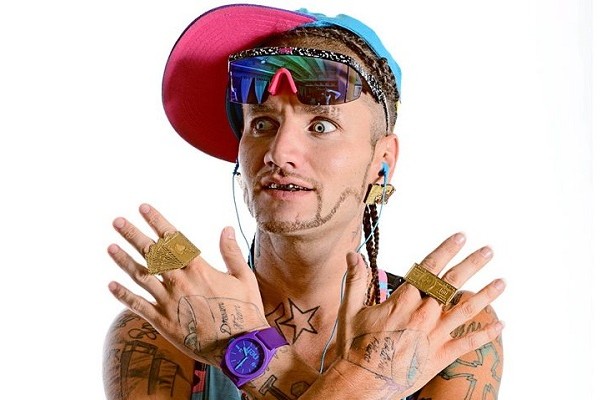 Despite this problem, Neon Icon does have some stellar moments. Introducing the Icon, its opener, sports an early 90's, funk-inspired beat, with Riff Raff gracefully (in relative terms) alternating between fast-paced rapping flows. Lava Glaciers is another surprising listen, featuring Childish Gambino. There's no question that this was a Because The Internet leftover that Gambino chose to fork over to Riff, despite the rapper only sporting the opening verse. It's a worthwhile addition though, with a beautifully organized sample acting as the chorus festered up by Harry Fraud. This track, as with the entirety of the album, contains Riff's pointless dribble, adding remarkably nothing to his own album subject matter-wise. These can be forgiven however because, in almost all cases, his hilarity and charisma shine brightly through the recording, making Neon Icon more similar to a comedy album, with high-quality production backing it.
The limitless delays and unsure release dates posits an interesting dilemma for those who were truly anticipating the arrival of Neon Icon, that of fresh, new content. Disregarding the 2 skits, 6 of the remaining 13 songs have already been released prior, some for years, including one that has an attached remix, making its inclusion as new iffy. With such a trite amount of truly new content it calls into question the reality as to why this was delayed so much. On Versace Python, one of those aforementioned tracks released over a year ago in much lesser quality, Riff raps "2k13 dreams in a limousine," referring to the popular basketball video game, despite 2k14 already released and 2k15 around the corner. This leads me to believe that even Riff Raff himself didn't care too much about Neon Icon and the eventual time it was released. New tracks Maybe You Love Me & Cool It Down, the two worst on the album, don't lend a helping hand to the rest of the oldies, just dragging them down with bland pop radio sounds, barren of all jokes. Regardless of the evident problems attached to Neon Icon, the corny, lighthearted nature of the record, the quality and inventive production throughout, and Riff's enjoyable presence make his long-awaited Mad Decent debut a worthwhile listen that showcases how style over substance can be correctly done.