Indirection, that's a helluva drug. The week leading up to The Life Of Pablo's eventual release saw album titles, track lists, featured guests and cover art come and go with the only thing remaining consistent being the megalomaniac at its helm. On 2010's 'Power' Kanye West famously declared that "no one man should have all that power." It seems, for the first time in his life, Kanye has all of it, his finger on the button with no one else, not even a rabid fanbase, forcing him to push it. My Beautiful, Dark, Twisted Fantasy was promoted by a short feature film, the maximalist nature busting at the seams. Yeezus was impaled on the masses with his face plastered vividly on 88 buildings over the world, the minimalist nature resounding in its dark, guerrilla tactics. With The Life Of Pablo there was, essentially, nothing. No decision-making, no promotional patterns. A single dropped ('30 Hours') the morning after a silent night with no album, 10 tracks played in front of weary models and obsessive fans at Madison Square Garden bloated to 17 the day after, and still, as of its official release at the end of SNL, one of its more famous tracks, 'Wolves,' was declared in a state of flux by the man himself on Twitter. It was a work-in-progress performance art piece on the scaling battle with indecisiveness, led by someone who didn't seem to care one way or another.
If there's one clear sign of crossover between
Life Of Pablo's
outside factors and inside contents, it's those indecisions. Tracks break and combust in short bursts, leading to passages seemingly plucked from thin air, so much so, that if this were condensed in the right way you'd be remiss to not call it an Avant-Garde sound collage. Part two of 'Father Stretch My Hands,' for example, cascades irrationally through a multitude of re-ignition's in just over two minutes before Rihanna, on the next song 'Famous,' forces a stop to the madness. It makes
Yeezus
, with 'On Sight's' "he'll give us what we need" crippling detour, seem run-of-the-mill. That's when it dawns on you that every Kanye album, including
Yeezus
, what we initially thought as an experimental mess, shows serious forms of style, coherency, and perfectionism, the likes of which are 100% absent here. Sonically in the comparable realm, but structurally directly so,
The Life Of Pablo
bears resemblance to Childish Gambino's 2013 spiraling fever dream
Because The Internet
. In fact, replace "The Internet" with "Fame" and you have Kanye's seventh studio LP. Only thing separating these two entities are Gambino's clever reasoning for why sonic coherency goes out the door, in the form of a 72-page screenplay, and Kanye's lack of excuse for anything.
While on the subject of appropriate names for this record, The Life Of Pablo's inspiration, that of St.Paul of Tarsus, sees Kanye proclaiming yet another blasphemous statement akin to I Am A God.' But herein lies the reasoning, with Ye seeing himself in the eyes of said biblical figure the two names become interchangeable. Subjectivity makes the second album cover's brunt depiction of "which one" mysterious, but replace Pablo with Kanye and the record suddenly snaps into place. Even more so than My Beautiful, Dark, Twisted Fantasy, The Life Of Pablo is obsessed with the artist at the end of the pen. Grandiose exemplifications of the worth of status and fame ran rampant throughout his opus. Here it's as if the roles are flipped, as we now witness the underbelly of said fame and what it's caused a deteriorating man to do. As an on-the-nose look at 2016 culture, its obsession with trends, memes, and icons, The Life Of Pablo is transcendent in all the wrong ways. Merely replicating the facile direction of social media obsession around him, Kanye took all the intrigue and uniqueness of his past few projects and pandered them to a feeding crowd begging at the trough for more material to stay relevant. Everything, from the Photoshopped cover to the Taylor Swift line to his constant obsession with being in the spotlight, primes itself for others to take something meaningful (or not) and degrade it to a meme that'll see its time pass once the hashtag stops trending.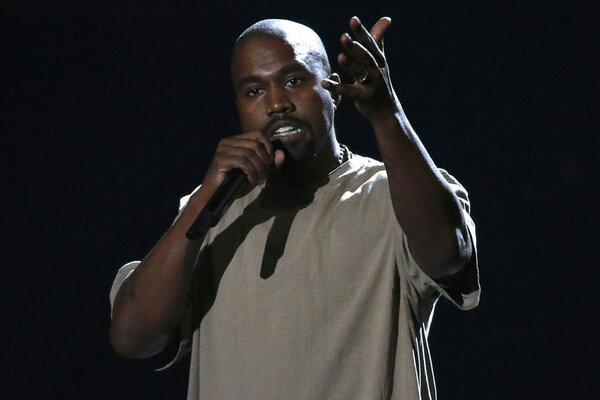 That is to say, in much fewer words, that
The Life Of Pablo's
lyrics and content are bad. Better than most fame-seekers grasping at straws for their own viewpoint, as Kanye has had one hell of a life, but to regress into childish banter best suited for Twitter makes
Yeezus'
irreverent lyrics seem renowned. For example, on 'Freestyle 4' Kanye catapults himself into a daydream centered around fucking on the dinner table and hoping others join in. It's pointless and really exemplifies the problem with
Life Of Pablo's
lyrics; that of a man with one of the craziest lives in the world, who's made poignant points through his lyrics in the past, with nothing essential to say. The album is loaded with pop culture references, sexual explicitness, and self-referential obsession (see 'I Love Kanye') that tracks like 'Real Friends,' a red herring upon its release as a single, 'Ultralight Beam' and 'Wolves' (besides Kanye's unnecessary verse) struggle to find footing amongst the litany of tracks molded like superficial jello. Not coincidently, those three emotive pieces are likely the best songs here. The opener is Hip-Hop catharsis, one of Kanye's best works, that takes the direct influence from Chance The Rapper's Gospel revitalization to heart, creating an invigorating five minutes despite, shockingly so, no concurrent backbone keeping things together.
With how disorderly The Life Of Pablo is there's sure as hell going to be blimps of greatness scattered through the wreckage, most of that coming from Kanye's production team, which, as always, is top notch. If one song is faulting in one way, it's mostly made up for in the piecemeal biting for time in between the moldy parts. Take 'Famous,' which starts awfully vanilla for a Kanye song, before turning into a delightful romp using chopped vocals from Sister Nancy's 'Bam Bam.' This quick-lipped sample contorting happens on 'Waves' and 'Fade' as well, both working excellent, especially on the latter where a reworked '(I Know) I'm Losing You' by Rare Earth finds a way to remain uppity and danceable while still mysterious. '30 Hours' soothes with an extended outro similar to 'Last Call' off College Dropout (and has Andre 3000 appear for two words, why oh why), while 'No More Parties In L.A.' finally sees a Madlib-assisted joint make it under Kanye and Kendrick. Finally 'Wolves'' warning sign of darkness that haunts the background has to be one of the more polished sonic palates I've ever heard. When it transitions into Frank Ocean's splendid closing glitchy howls can be heard in the distance, sounding something like a dying dinosaur. It's incredible.
As far as features goes, there's a distinct lack of old heads Kanye's worked with and a slew of new ones. Yeezy's closest reincarnate, Chance The Rapper, kills his appearance on 'Ultralight Beam,' bearing the perfect mix of cultural and socially conscious lyrics. Young Thug, Post Malone, and Ty Dolla $ign all appear without much impact or purpose, while singers Rihanna, Chris Brown, and Frank Ocean all do the opposite by turning their respective tracks into commandeering platforms for their performance. None of this is reflective of song quality mind you. Desiigner's two appearances ('Pt.2' and 'Freestyle 4') make those songs, despite how short his moments last. The bad tracks here are really so, some of Kanye's worst. 'Highlights' is a sonic mess without any leading moments, the convoluted performance of it on SNL only showcased how bad it was. Also it was better when it was 'Good Life' on
Graduation
. 'Feedback' is unmemorable in a slew of tracks insatiable for their desire to draw attention, while 'Facts' is still plain bad, albeit slightly better than it's original version. As evidence by this review it's clear Kanye's picking and choosing from his six previous albums, forming a collage that's at times exuberant and at others substandard.
It's clear Kanye intended to rise The Life Of Pablo above its musical limitations. You'd be fooling yourself if you didn't feel the week of constant trolling, Twitter unraveling, and further updating of the still work in progress album is apart of Kanye's act. The two have essentially merged. On Friday night, as a slew of fans awaited word of the album's release, Kanye posted news that Chance The Rapper was delaying Life Of Pablo to include 'Waves.' The next day Kanye posted an edited cover with the words "BLAME CHANCE" scrawled across it. Come Saturday night, 'Waves' lies as track 10. The lines have blurred between physical and digital, serious and comical. Years of preparation worthless to the final minutes. Instant gratification seen play out online comes together in an official album later that day. Five bonus tracks added for no other reason than he can, serving up more in place of formal cohesion. Contingent adhesive is severely lacking here, as sub-genres bounce between each other jarringly, done on purpose for a statement on the battle between perfectionism and indecisiveness. Kanye's doused himself in the former his whole career, with a new family and Kardashian fame the latter has taken over, despite the "greatest artist in the world" unable to fully allow The Life Of Pablo/Kanye to be a singular work that ends on February 11th, 2016.