In an interview with Pitchfork Pusha T was quick to dispel Darkest Before Dawn as being little more than a mixtape, stating that he "doesn't want to cheapen it like that." From its edifice, a glorious cover dipped in GOOD Music's (of which he's the new president of) artful minimalism, as well as a full promotional release of three separate singles, it's clear he's right. Its title signals a coming, in more ways than one. It's technical namesake goes "King Push - Darkest Before Dawn: The Prelude," with all three segments representing a coming storm with his third studio album. What it also does, unknowingly, is diminish the worth of this project. Ten tracks baring no holds bar rap with a dash of boundary pushing, covered in A-list producers from Boi-1da to Hudson Mohawke to J.Cole. It's clear Darkest Before Dawn is anything but lacking in substance. And what's contained within is a concentrated effort from a hungry emcee whose learned to trim the fat, cut the unessential content, and focus on his bread and butter; glorified street rap that looks discretely upon those he used to associate with with flair and lyricism that's undeniably his own.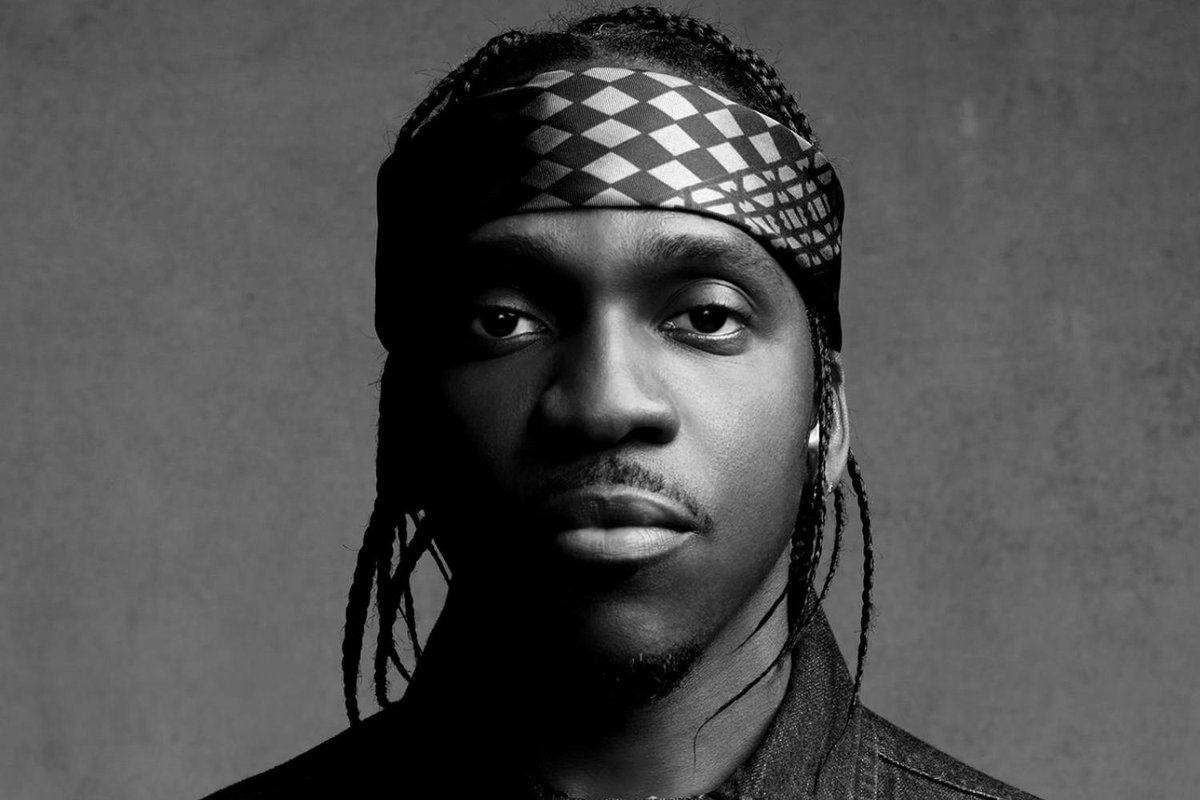 In other words it's better than My Name Is My Name, his 2013 release, in regards to overall quality. There's less to detract from its message, like the Kelly Roland and Chris Brown-assisted tracks did on his former, and more that buff the baseline to something more consistently effective. However, in regards to
Darkest Before Dawn
Pusha T, in his
AMA
on Reddit, was quoted as saying it was a project he "could give to my fans without worrying about different label/radio politics," which brings immediate concerns over
King Push's
potential for retreat. Here in the present though,
Darkest Before Dawn
lingers decisively over the continuously regressing landscape of mafioso street rap. Given 'Intro's' tone setting, Pusha T wastes no time valuing each side of the coin, one as a drug dealer, the other a rap kingpin, choosing to take both instead of rejecting either. That's largely what makes up the bulk of
Darkest Before Dawn
, Pusha T's constant efforts to prove his worth in both facades, earning respect through sheer force and note-worthy lyrics, combining technicalities with witticisms, ad-libs, and a unique flavor of street-wise jabs.
There's few rappers who thrive off the mantra 'less is more' better than King Push, an artist who makes each line a statement. When he's not spouting braggadocios rhymes in a litany of different ways, he's criticizing the common pitfalls of ghetto life, all as if it's his last breath to give. Like on 'M.P.A' or 'Crutches, Crosses, Caskets' he details the sins of greed, lust, and idolizing found within the barracks of the youthful black community, theorizing that the stars of Rap shouldn't be role models when they were once pushing petty crimes and flaunting arrogance. So while it's his style that puts Push above his competitors, his messages seem to show a certain growing disdain for the life he lived, and currently lives, bringing with it a welcomed perspective on Hip-Hop's vanity, rather than falling in line with the handful of contenders who merely accept it. When he isn't mustering discussion within the lines though, he's often putting on exhibitions in exquisite banter outside it, using euphemisms, metaphors, and a hodgepodge of beefy language to accentuate his points, along with his demeanor. 'Untouchable,' featuring a prominent Biggie sample, is the capital essence of this effort, moving fluidly through his various talents with ease.
In regards to the production, Pusha T continues to show his knack for illustrious beats glooming within dark corners. Matched up against My Name Is My Name there's less standouts, like the Kanye-produced 'Who I Am' and 'Numbers On The Boards,' but more consistency. Within the street rap scene you can't contend with Pusha's continued persistence to widening the gap of the typically narrow sonic scene. On
Darkest Before Dawn
he harkens back to Clipse-era beats that juke, bounce, and switch up around jutting synths, a la Neptunes. Tracks like 'Got Em Covered,' by Timbaland, and Q-Tip's excellent 'F.I.F.A' are the standouts, emphasizing creativity over more prosaic works. While many beats here focus on GOOD Music's modern day Art Rap approach that
My Beautiful, Dark, Twisted Fantasy
made popular, they always come intwined with cooky sidesteps that invest in the nuances while adding to the overall quality. Both 'M.P.A.' and 'M.F.T.R.' highlight the aesthetic, while others, like 'Retribution' or 'Sunshine' brutally utilize bass and a haunting aura as a conduit for enthralling moments that captivate.
It's that last song though, the finale, that leaves the greatest impact. 'Sunshine' doesn't have any singular aspect that shines above the rest, apart from a particularly beautiful Jill Scott chorus, but it does accurately put every boiling confession Pusha has into perspective. It's his take on the rising tension between white and black, the streets and the cops, as his weariness turns to anger as history seemingly repeats itself. While it may be another rapper hopping on the proactive trend considering his sometimes glorification of the dilemmas, Pusha's passion and fervor for what's right stands out like a sore, bruised, and battered thumb. If only the seeds of thought from 'Sunshine' instilled themselves in other tracks here, Darkest Before Dawn's biggest offender, its content coherency (a problem with Pusha in general), may have been uprooted. When he consistently reiterates, in increasingly desperate fashion, "just another nigga dead, just another nigga dead" it's seemingly apparent Pusha's conscious is getting the better of him, making 'Sunshine' an excellent closer that leaves things off on uncertain terms. As we await King Push's release, Darkest Before Dawn clarifies why many foresee the GOOD Music emcee as a magnificent stalwart amongst Hip-Hop connoisseur's, which makes my anticipation grow more frustrating as I await his grand leap.