Well the first weekend of Coachella has come and gone. This year was particularly heartbreaking for me as it featured a reunion of my favorite group of all-time after more than a decade without performing, and one of my favorite groups currently closing the festivities, all while I sat there on my laptop watching a stream incredibly jealous of all those in attendance. But never-the-less, the acts I witnessed this past weekend ranged from great to mildly disappointing, but overall, at least in terms of what I had time to watch and not any of the additional hoopla occurring there, Coachella was once again satisfying. Here are my notes on the acts I had the chance to see:
Outkast
The headline of all headlines. Outkast, Hip-Hop's most-esteemed duo coming together for a 40 festival tour run seemed almost to good too be true. This being especially the case for me, as you know, being a huge Outkast fan. Sadly for most, the show itself was kinda a letdown that was littered in controversy following its unbearably bad conclusion (more on that later). But, this may be the stan inside me, I thought overall, despite the odds, that Andre 3000 & Big Boi did a killer job throughout with a few hiccups that spiraled out of control.
First the good: The show began on insanely positive note, with a collection of songs to hype the crowd up, including opener B.O.B. The duo spent most of their first couple songs in a giant translucent cube covering most of the stage before stepping out and getting more personal with the crowd. For Outkast purists the show's setlist was much like a wet dream. Everything from the most popular hits to deep cuts not expected to be played showed up here. The live instrumentation backing the duo was stellar, sporting an arrangement of trumpets, backup singers, and a DJ to compliment the two rappers, making their production seem that much more better, shocking for a live performance of this magnitude. Horns, samples, and scratching where there previously weren't any were scattered throughout, my favorite being on Andre's solo section the addition of an "Oh my god" sample chopped and screwed that added another whole layer to the song.
Serving distinctly off just memory my favorite tracks performed were Da Art of Storytelling, which was a surprise to most, Vibrate & Prototype off The Love Below set, thanks to the gorgeous instrumentation and visuals occurring, and Elevators, which cleverly swapped the original out with the remix throughout the song, to glorious effect. While much of the spotlight was on Andre and his performance due to his extended hiatus, Big Boi ended up stealing the show with his quality stage presence throughout. He hardly ever stumbled on his verses, his alliteration was superb, & when Andre was having trouble he'd come to the rescue in an attempt at continuing the hype. Also, despite concern initial with them remaining in the cube for the duration of the show, the visuals that haunted many of the elements were top-notch, from the polar bear & bicycle manning the middle, to the effects adorning the cube itself.
Now the not-so-good: Many factors led to the dwindling of interest that accrued over the 90 minute set, none entirely anyone's fault. First, the crowd. With a slew of white, 20 year old suburban girls and boys solely experiencing Coachella for the raves, drugs, and spectacle, gathering to watch two 40 year old men play decades old songs whilst coming down from a molly trip for the past 7 hours is not something you'd expect them to be entirely in support of. Not to mention the 'fans' there, at least the large percentage of them, were not fans in the first place and are only aware of their bigger songs. With this, and the amount of 'unknown' songs played, the crowd lost interest rather quick, and it was telling.
Unfortunately this had a negative effect on one half of the duo, 3 Stacks, who noticeably has suffered from severe stage freight for the decade since he's been gone. And it showed. Not many, even now, know of his condition so his awkwardness, uncomfortable nature, and lack of interest came off as a slap in the face to the fans that failed to be excited throughout the 90 minutes. Also, the mic Andre was using, a wired one as opposed to Big Boi's wireless, was often times quiet so some frustration was let out the half a dozen times after he asked them to turn it up. This, along with some glitches throughout, including the most noticeable one of cutting him off mid-Ms.Jackson verse, led to Andre himself caring less and less of the show as it progressed. It was interesting to witness his actions however, he often-times yelled out strange things, sometimes indiscernible, and would have freak breakouts of dance despite his nervs. One would question what exactly Mr.3000 has been doing this past decade.
The features, were hit or miss, literally, because there were only two. I wouldn't count Sleepy Brown as everyone who knows Outkast even slightly would realize his presence would obviously be there, and he did fine. Janelle Monae did an excellent job at revitalizing the crowd with Tightrope, performing skilled dancing on the stage, along with her send-off that Outkast is her favorite group of all-time. However, when the duo brought out Future, a Dungeon Family member, to perform three of his songs, and mainly, promote his new album, things lost control. While the songs were fine, besides Andre cutting things off right before his verse, the energy between the three was awkward and the whole obvious promotion left a bad taste in everyone's mouths. However, the worst feature of all was one who couldn't even make his presence felt. After wrapping up Hey Ya!, the duo asked the crowd for one more song, only to be told that had exceeded the limit and must stop. This comes as heartbreaking for me especially because Killer Mike, famed Outkast collaborator and one half of Run The Jewels, was waiting off-stage to perform The Whole World, aka, the very first rap song I had ever heard. The show just awkwardly ended, with Killer Mike not having a chance to perform in the biggest show of his career.
Overall however, the reunion was nice. My largest suggestion would be one that would have no effect, and that is that Outkast should have really performed a stadium tour in front of fans that adore them. This would increase the excitement, energy, and overall atmosphere of the concert, but also put Andre in a calmer situation where he could relish with thousands of people who love his music. Instead they must pander to high teens, early 20 year olds, who mostly recognize 'Kast from Hey Ya!, The Way You Move, & Ms.Jackson. It's unfortunate to say the least, but with time Andre's stage presence will rise & things will once again return to norm.
Girl Talk
The antagonizing wait I planned on suffering to see Outkast was greatly subsided by a man I had never heard of who was mashing up popular songs like nobody's business. The preconceived notion that mash-ups can only be for struggling DJ's who want to be noticed by combining two well-known songs, or continuing a running playlist, Girl Talk adds his own little flairs. It was an interesting sight to behold and one where the crowd went wild over his performance, slightly disappointing from thereafter knowing their excitement would dwindle, and fast, to the next group coming out. I was entirely enthralled by his music, mainly for the more obscure songs (relatively speaking), that he began mashing-up, including Busta Rhymes (who came out to perform) with Arcade Fire's Wake Up. Speaking of features, Busta Bust, Juicy J, E-40, & Too Short all came out to support their DJ in applying their voice to the songs he used. His performance was one of my favorites of the weekend and immediately got me into following him, and discovering his music.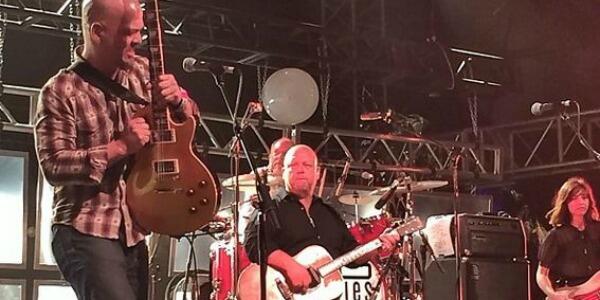 Pixies
Time has not faired well for the duo best known in the early 90's, hailing near my hometown. Despite the problems of their poor recent releases that are being universally disliked, the history engrained in one of the most influential bands of the 90's isn't one to easily dismiss. While I didn't get to watch the full set, and I'm not sure how this matches up with the rest of their performances, but Black Francis' singing seemed incredibly inconsistent throughout. Splotchy, poorly delivered were equally matched with spurts of greatness, sounding much more like his rebellious self two decades prior. Speaking of those days, the band pulled out all the tricks, besides co-founder Kim Deal, who left the band in 2013, playing all the classics including Where Is My Mind, Gigantic, & UMass. Thankfully, I'd imagine considering I wasn't there, the crowd was more into their performance as opposed to Outkast's, despite both groups exceeding 40 years old. This shift in thought was most likely due to the crowd at hand, much more specialized and less in it for the 'hey I saw the headliner on Friday' mentality. Joey Santiago's guitar solo, featuring a dazzling array of what I presume to be difficult maneuvers, ended the show on a fairly positive note.
Once a house legend, Fatboy Slim has turned, unfortunately a telling of the times, to a rave-induced DJ following the trails of those in the aughts' instead of blazing them himself. His albums released around the turn of the century still hold up today as the foundation for which most electro/house music is now today. From Right Here, Right Now to The Rockafella Skank to Praise You, Norman Cook's discography posies itself as a greatest hits for the genre as a whole. Now we've been reduced to Eat Sleep Rave Repeat, an ad-nauseum track that plays for frat boys and sorority girls, using a sample of a drunk dude tripping as the basis for the song. It's repetitive, and not in a good way. His pandering to the internet age is something to be looked down upon and it was showing in his performance, which was like a bass-infused coma without any room for stops. I lost interest, although that may have been due to the fact that the camera, for some odd reason, never moved from its set position at the very back of the crowd. He did however provide some nice contrasts, such as the Christmas song playing, despite once again, returning to the same trap-influenced debauchery meant to see how many 'drops' one can achieve in a 50 minute session. All of this applied to Flosstradamus as well, who while that certainly is their intent, doesn't lead to often to a promising show review.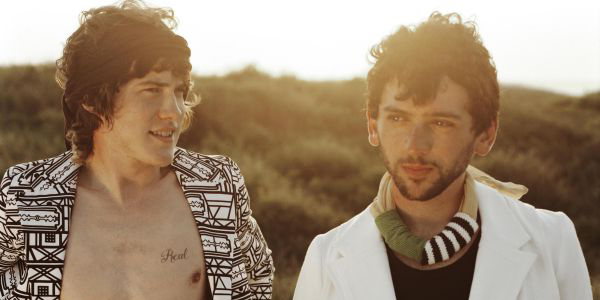 After their disappointing self-titled third album, MGMT pleasantly surprised me with their Coachella set. Not laced in outrageous clothes, and sporting nothing more than average, everyday wear, Andrew Vanwyngarden took the stage and recited nine songs from the group's three albums. Thankfully the three songs they've played off MGMT, Cool Song No.2, Alien Days, & Introspection all sounded great live, comparable to their previous works. Surprisingly, despite their recent actions against their earlier 'pop' works, the duo played Time To Pretend, Electric Feel, & Kids, the final one lasting well past its time length, extorting itself into a well played instrumental gap. Unfortunately my favorite album from them Congratulations, only was supported by one song, Flash Delirium, which happens to be my favorite. I would have liked to see more from their middle album, but overall the short set was consistent throughout. Alterations made to the instruments, and mainly Vanwyngarden's singing, added a new depth to the music, especially his epic closing to Flash Delirium in which his screaming slowly progressed to the conclusion and came off much better than what the actual track delivers. Finally, a slowly developing occurrence that happened during the piece, and only to those watching from the stream, was the overlapping of their visuals on screen, causing most of the performance to be masked by trippy, nonsensical projections.
Arcade Fire
Thankfully, redeeming Outkast for their unsatisfactory opening, Arcade Fire dominated the closing show, and to no one's surprise. Mainstays in the Coachella scene, and known for their elaborate live shows, covering all their live instrumentation with their full band performing multiple instruments each, Arcade Fire are perfect for festival concerts. And they once again showed off why they are. Beginning with title track Reflektor, the band took us through a healthy dose of each album (with Neon Bible being the tailgater, as is in most cases). The first case of how to win over a crowd was found during their performance of Rebellion (Lies), where the crew played their hearts out, as Win was quoted as saying they would do prior to starting, with Will Butler dominating the show despite only using a single drum, falling on the steps to the stage at its conclusion.
Everything was nicely choreographed, with no hiccups at all throughout the entire set. Each member had their role down pat, but surprisingly stealing the show, based on her camera time in accordance with importance, was lead violinist Sarah Neufeld who commanded her small role, gracefully showcasing the skill and beauty of majesty over the violin. The band, in accordance with their Reflektor tour to date, brought out a special guest, in this case Deborah Harry of Blondie, to perform her song Heart of Glass. Harry stayed on stage to perform Sprawl II with Regine, providing backing vocals to the epic track.
The best song performance of the night however went to It's Never Over, which, mainly due to the eery video effects laid over Regine's sections along with the mask of death parading around behind her, created an ever-lasting effect that had me addicted and enthralled. They played the entire track throughout, and much as is the case on the album, the slow build became greater over time. Also, the stereotypical closer for hippie-minds, Wake Up, closed the concert on a high note, as fans roared in celebration of the song's memorable melodies. Win Butler made it clear before the song began that if they cut them off to continue playing, and that's exactly what they did, marching their bodies and instruments through the crowd, carrying on the hum until they disappeared behind the stage.
Overall Arcade Fire ended Coachella's first week on a strong close, as nearly everyone expected would be the case. Hopefully the biggest disappointment, Outkast, will be more accustomed to the unusual setting by next week, and hopefully Andre will lose some form of his stage freight in order to hype the crowd up to their long show.